Best Debit Cards for Kids for 2022
---
A major aspect of preparing our children for adulthood is to teach them fiscal responsibility. Some parents do this by giving their children a weekly allowance or a piggy bank to encourage saving. However, if you'd like to take things up a notch, you should consider giving your child a debit card. This may sound like a huge step, but there are actually lots of debit cards for kids with special features and parental controls.
Below, we'll cover the many advantages of giving a child a debit card and at what age they should be given this responsibility. We'll also list a few providers of children's debit cards so you can determine which is right for your family.
Advantages of Giving Your Child a Debit Card
It can help them develop healthy financial habits
Debit cards can be a great way of introducing kids to the basics of good money management. This includes tracking expenses, budgeting, and just being more aware of how much they're earning, saving, and spending. You can also encourage them to learn the differences between their wants and needs and consider long-term savings goals.
It encourages independence and confidence
What teen doesn't want their own debit card and bank account? Taking this step shows you trust them and encourages them to be more independent. Being more independent and taking on more adult responsibilities can then give them a meaningful boost in confidence.
You can monitor their spending and lock the card
The key difference between a regular debit card and a children's debit card is the parental controls. With most companies that offer children's checking accounts, you'll be able to monitor their spending and lock their card with ease. This is a major benefit for parents who worry about their child getting into any financial trouble.
They won't need to borrow your card
Kids today are always asking their parents for their debit or credit card so they can buy things online. By giving them their own card (with spending limits), you're giving them the freedom to make their own choices and use their own money. If you're buying everything for them, they may not be able to fully grasp the real value of money.
At What Age Should Kids Be Given Debit Cards?
Many U.S. teens open their first checking account at around 17 years old. This is partly because the majority of banks are reluctant to offer debit cards to anyone younger than that. The problem is that 17 is actually a bit late to be given your first debit card.
If a 17-year-old is given a debit card and has no experience with budgeting or saving money, they could start spending recklessly or racking up debt. Children as young as 7 can begin developing spending habits, so it makes sense to start their financial education at an early age. Unlike with a 17-year-old, you'll be able to monitor all of their spending activities.
This doesn't necessarily mean your 7-year-old needs a debit card. Middle school age, around 12 years old, is a perfectly reasonable time to give your child a debit card. However, it shouldn't be just any debit card. Here are a few companies that offer debit cards intended to help parents teach kids about fiscal responsibility.
FamZoo Prepaid Debit Card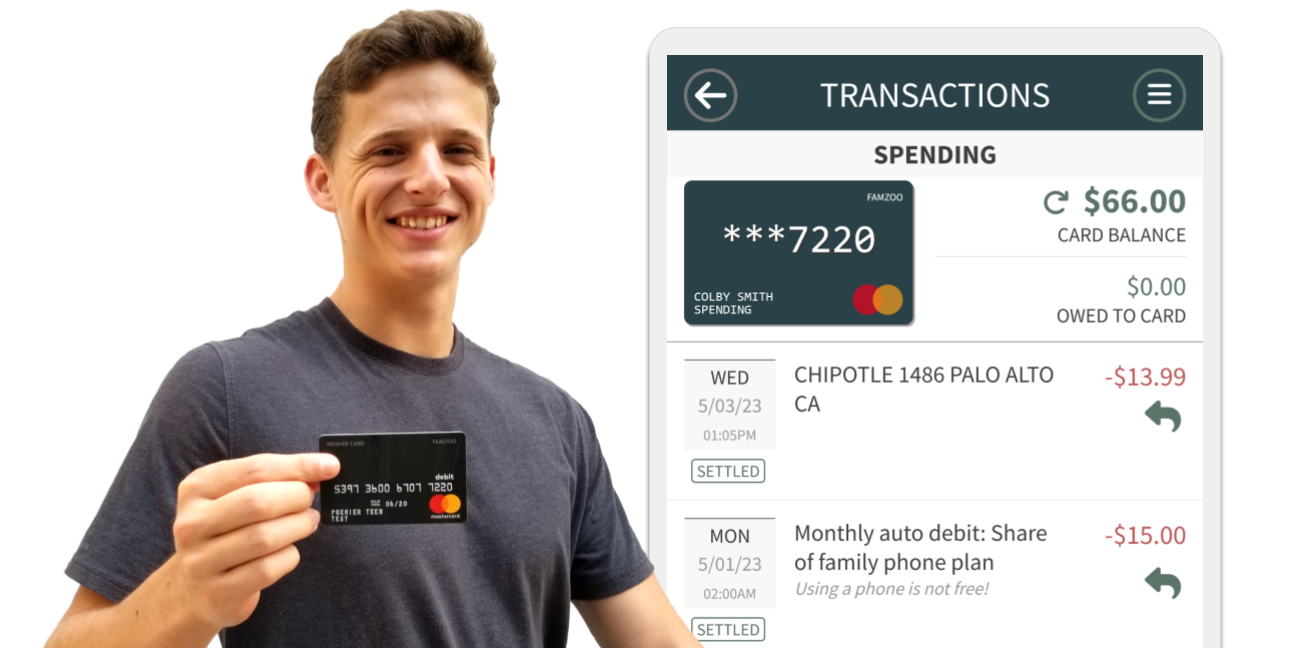 With FamZoo, you can get a prepaid debit card and access to their mobile app for just $2.50 to $5.99 per month. The benefit of giving your child a prepaid card is that you never have to worry about them acquiring debt. You can easily add money to the card via direct deposit, Apple Pay, or PayPal.
FamZoo's mobile app is user-friendly for both kids and adults. Kids can set and track their own savings goals, and parents can make use of various parental controls. FamZoo also provides real-time alerts and weekly financial reports so parents can easily monitor their children's account activity.
Why Choose FamZoo?
Covers Up to Four Cards: The cheapest monthly plan covers up to four cards. Additional cards cost just $3 per month.
Loan Repayment Tracker: With this tracker, parents can lend their kids money and arrange a repayment schedule to help them learn about managing loans.
Create Chore Lists: Parents can create chore lists that deposit money into their child's account once they've done their chores. There's also a chore fail feature that can remove funds from their account if they fail to complete their tasks.
Set Up Saving Goals: Kids can easily set money aside and track savings goals for large purchases.
While FamZoo has many unique educational features that set it apart, it's important to consider its minor drawbacks. FamZoo requires a 24-month upfront payment for their lowest pricing plan. They also don't offer interest for savings accounts. Instead, they give parents the option of adding interest to their child's untouched savings.
That said, FamZoo's user-friendly mobile app and amazing features are well worth it for many parents. If you're interested in setting up an account for your child, make sure you look for some FamZoo discount codes first.
Greenlight Kids' Debit Card
The Greenlight Kids' Debit Card is a great choice for parents who want to keep a close eye on their child's spending. For a small monthly fee of between $4.99 to $9.98, you can set up an account and enjoy all the features of Greenlight's mobile banking app for parents. This account offers instant transfers, real-time notifications, and an in-app chore list to ensure that your teens are earning their allowance.
The features you and your teen enjoy with Greenlight will vary depending on your plan. With the lowest tier, you'll get the debit card, the mobile app, and parental controls. For $7.98, your teens can access Greenlight's investing platform (which is a parent brokerage account). For the highest tier of $9.98 per month, teens will also get priority customer service, cell phone protection for damaged or lost phones, identity theft monitoring, and more.
Why Choose Greenlight?
Full Parental Control: You can use the mobile app to monitor your child's spending and deactivate or reactivate their card. 

Covers Up to Five Cards: Even on the cheapest monthly plan, Greenlight will cover up to five debit cards. This is especially ideal for households with more than one teen. 

Can Block Specific Stores: With the mobile app, you can easily block specific stores and websites you don't want your teen to buy from.
It's important to note that every Greenlight Kids' Debit Card has a daily spending limit of $1,500. Also, accounts can only be funded via a bank account or debit card, not through PayPal or credit cards.
Greenlight is a very reliable option for parents who want to have a lot of control while still encouraging their teens to learn about money management. The monthly fees are quite manageable, especially when you use a Greenlight coupon code at checkout!
Axos Bank First Checking
If your child is between the ages of 13 and 17, they're eligible for Axos Bank's First Checking account. This First Checking account requires a parent to be the joint owner of the account. There are zero fees for your teen, and a free debit card is included.
There are several benefits to being a joint owner of your child's checking account. Namely, you can easily deactivate or reactivate your child's debit card from the Axos Bank mobile app. And, though their app doesn't have quite as many features as their competitors, you'll have no trouble using it to monitor your child's spending habits.
Why Choose Axos Bank?
No Fees: Axos Bank does not charge account maintenance fees or overdraft fees for First Checking accounts. They'll even reimburse ATM charges up to $12 each month!
Joint Checking Account: Since Axos requires a parent/guardian to be a joint owner, you'll always have equal control over your child's checking account.
Automated Alerts: With the Axos Bank mobile app, you'll have the option of setting up automated alerts for any account activity.
Axos Bank's First Checking account is set up similarly to a standard checking account. Teens can direct deposit any paychecks into their checking account or switch to a savings account to earn a small amount of interest. Before you set up a First Checking account or use any of Axos Bank's other services, consider applying an Axos Bank coupon.
Don't Pay Full Price for a Kids' Debit Card
One of the best money-saving habits you can pass on to your kids is to always search for coupons before placing an order. At DealDrop, we've partnered with over 100,000 merchants to bring you a wide selection of free coupons, deals, discounts, and promo codes.
With our help, you can save on debit cards for kids with FamZoo, Greenlight, and Axos Bank. You can also find countless discounts and codes for clothing, coffee, health supplements, skincare products, and much more. If you're interested in partnering with us, please feel free to email us at hello@dealdrop.com at your next convenience.